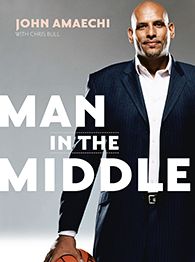 It's nice to see an athlete come out of the closet on his own terms. It's just too bad former NBA center John Amaechi had to wait until he retired to do it. Amaechi is coming out on ESPN's
Outside the Lines
on Sunday. Amaechi's autobiography,
Man In The Middle
, comes out Feb. 14 and is published by ESPN Books.
Most of the reaction to Amaechi's coming out has been positive. But then you have the reactions of two current NBA players, LeBron James and Shavlik Randolph:
Said James: "With teammates you have to be trustworthy, and if you're gay and you're not admitting that you are, then you are not trustworthy. So that's like the No. 1 thing as teammates: We all trust each other. You've heard of the in-room, locker-room code. What happens in the locker room stays in there."
Randolph said he was OK with it, "as long as you don't bring your gayness on me."
Ignorance on so many levels.
It will be nice when a professional male athlete comes out while he is still playing. Guys like Dave Kopay (NFL), Billy Bean and Glenn Burke (baseball) all came out after they had retired. But women such as tennis players Martina Navratilova, Billie Jean King, and Amelie Mauresmo are openly gay, as is WNBA player Sheryl Swoopes. Navratilova applauded Amaechi's courage. "It's hugely important for the kids so they don't feel alone in the world. We're role models."
Chris Bull, a good friend of mine who I have played many a game of softball with, is the ghost writer. Amaechi's book should be a good read. Bull also helped Bean write his autobiography,
Going the Other Way
. Bean went from the baseball diamonds to the softball diamonds and became a very, very good softball player. He's now one of the co-hosts of
I've Got A Secret
on Game Show Network.