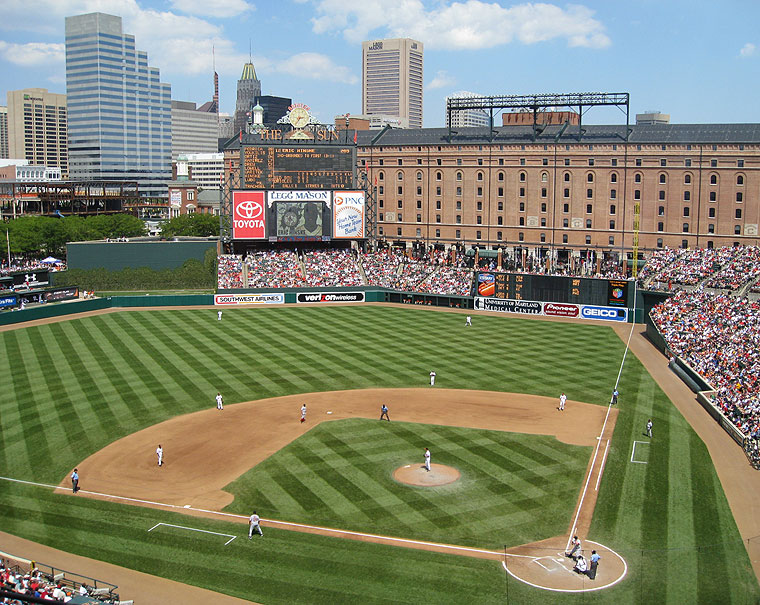 Josh and I went to Baltimore to celebrate Independence Day (Ed had to work) and had a great time. Josh had never been to Baltimore, a city Ed and considered moving to at one time. But the commute to the D.C. area was just too much so we settled in Lorton.
Anyway, we went up early and walked around the Inner Harbor for a while before settling in at the ESPNZone for a couple of beers. We then headed down toward the ballpark and had a couple of beers outside Pickles Pub. The whole area around Oriole Park is perfect for just meandering and having a good time.
Then it was time to head into the ballpark. We entered through Eutaw Street. The way Eutaw Street -- and the entire park for that matter -- is laid out you don't even have sit in your seat to have a good time. You can walk around and not miss any action.
It was Josh's second visit to a major league ballpark, with Nationals Park his first. One of these days we'll have to get him to Chicago to see THE BEST park in the world, Wrigley Field.
I've been to many ballparks around the majors, but to me, after Wrigley Field, Oriole Park at Camden Yards is the second-best place to watch a game in all of baseball. It had been a couple of years since I had been back. Gonna have to change that -- especially if the Nationals keep playing as badly as they have.
Fickle fans? Nah. The Cubs are still No. 1. But I could be swayed to change my No. 2 ...